Endsmeet Animal Hospital is owned and operated by Nicholas Glynn B. Vet Med M.R.C.V.S. and Dr. Jennifer Fullerton DVM, both of whom bring a wealth of knowledge and expertise to our clinic. In addition to the Partners, Endsmeet employs Associate Veterinarians that each add their own specialty to our small animal practice.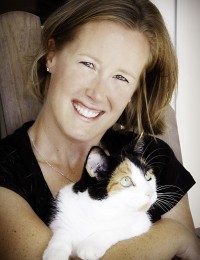 Dr. Jennifer Fullerton, DVM
Jennifer is the most recent addition to the ownership group of Endsmeet Animal Hospital. As a little girl she was volunteering at Endsmeet and decided very early that the only career for her was veterinary medicine. She graduated from the Ontario Veterinary College at the University of Guelph in 2003, and stayed in Ontario to begin practicing. In January 2007 she returned to Bermuda and started work as an Associate with Endsmeet. Three years later she was invited by Nick and Neil to join them as a Partner in the clinic.
Her love for small animals knows no bounds. Her first dog was a rescue mini daschund from Ontario named Maggie, who underwent successful spinal surgery at the OVC in 2005. She has two calico cats, Annie & April from shelters in Ontario who are enjoying the warm summers and scaring any lizards and birds that dare settle on the porch from inside the window. One evening on call her third cat came in as a kitten hit by a car, and she decided if he pulled through she would have to have him. He is a male orange tabby named Buzz, now 4 years old he is thriving in his new home. She has recently adopted Kenny, a locally bred mini daschund from a client on Endsmeet who brought the puppes into her exam room where she decided she had to have him.
In her spare time Jennifer enjoys walking Kenny and getting out on the water to snorkel or just relax. She spends a lot of time with her family, as both her and her husbands familes are Bermudian. It can sometimes be a long trip as their parents live at opposite ends of the island! She is committed to the continuing growth of her skills and the continued growth of the services on offer at her clinic. Providing the Bermudian public with the best service possible is her goal, and she looks forward to seeing you and your small companion animals at Endsmeet.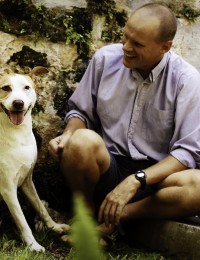 Dr. Nicholas Glynn, B.Vet Med & M.R.C.V.S.
After growing up in Bermuda surrounded by animals – dogs, cats, rabbits and a multitude of chickens, it was natural for Nick to want to become a veterinarian, partly because of his love for animals and partly because it was the most challenging course to get into at university. He attended the Royal Veterinary College in London, England, universally recognized as the most prestigious veterinary college in the world, qualifying in 1991. After working for several years in the UK, starting with cattle and sheep in Devon and finishing with dogs and cats in Warwickshire, Nick returned to Bermuda in 1996, becoming a partner in Endsmeet Animal Hospital in 1997.
The last 17 years, that's a scary number, have flown by and Nick has gained three cats, two children, a dog, a wife, a bad back and three horses ( not necessarily in that order apart from the horses ) and lost an awful lot of hair along the way. Despite it all he is still phenomenally good looking and continues to love being a veterinarian constantly striving to improve both his own knowledge and the service that Endsmeet Animal Hospital is able to provide for its clients.
A lot of Nick's spare time is devoted to his cats, children, dog and wife. He also runs ( pretty well ), cycles ( OK ) and swims ( slowly ) and once in a blue moon even manages to put them all together. Finally he loves playing golf but unfortunately a combination of being awful at it and the previously mentioned bad back means it rarely happens.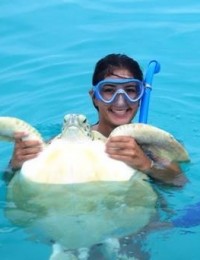 Dr. Lianna Aggarwal, B.Vet Med & M.R.C.V.S.
Lianna was born and raised in Bermuda and is the newest addition to the Endsmeet Team! She knew she wanted to be a veterinarian from a very young age and of course grew up with a variety of pets ranging from rabbits, guinea pigs, chickens, cats, dogs and even a lamb! Demonstrating her passion for animal care, she dedicated a lot of her spare time to many organizations locally including the SPCA, Windreach, the Bermuda Aquarium and Zoo including the Bermuda Turtle Project, local dairy farms and did externships at the local veterinary practices including Endsmeet. She attended Warwick Academy where she was Deputy Head Girl. Upon completion of high school she enrolled in the University of Glasgow, Scotland to pursue her dream of becoming a veterinarian, and graduating in August 2016 with Commendation. Lianna is very happy to be back in Bermuda enjoying the weather and hopes to put her knowledge and skills to work for the local pet population here at home. Outside of Endsmeet Lianna enjoys playing rugby and spending time with her friends and family and her Doberman Milo!
Dr. Mirela Gheorghe
Picture & Bio Coming Soon!
Dr. Kendra Simons
Picture & Bio Coming Soon!
Dr. Roxane Mobasser
Picture & Bio Coming Soon!