Endsmeet is owned and operated by Dr. Jennifer Fullerton DVM who has been a Managing Partner and Director since 2007. Joining her on the team are our four associate Veterinarians each of whom add their own specialty to our small animal practice.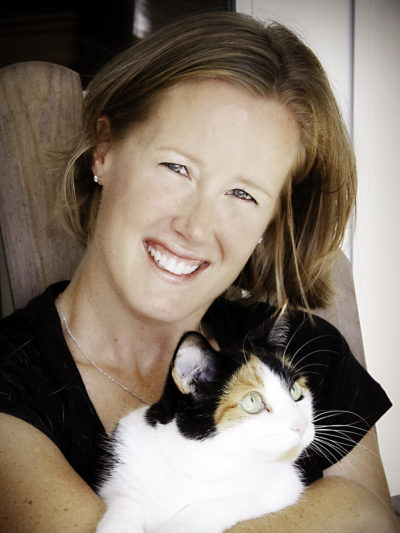 Dr. Jennifer Fullerton, DVM
As a little girl Jennifer was volunteering at Endsmeet and decided very early that the only career for her was veterinary medicine. She graduated from the Ontario Veterinary College at the University of Guelph in 2003, and stayed in Ontario to begin practicing. In January 2007 she returned to Bermuda and started work as an Associate with Endsmeet. Three years later she was invited by Nick and Neil to join them as a Partner in the clinic. As of January 2021 Jennifer is now the sole Director of Endsmeet Animal Hospital
Her love for small animals knows no bounds. Her first dog was a rescue mini daschund from Ontario named Maggie, who underwent successful spinal surgery at the OVC in 2005. She has two calico cats, Annie & April from shelters in Ontario who are enjoying the warm summers and scaring any lizards and birds that dare settle on the porch from inside the window. One evening on call her third cat came in as a kitten hit by a car, and she decided if he pulled through she would have to have him. He is a male orange tabby named Buzz, now 4 years old he is thriving in his new home. She has recently adopted Kenny, a locally bred mini daschund from a client on Endsmeet who brought the puppes into her exam room where she decided she had to have him.
In her spare time Jennifer enjoys walking Kenny and getting out on the water to snorkel or just relax. She spends a lot of time with her family, as both her and her husbands familes are Bermudian. It can sometimes be a long trip as their parents live at opposite ends of the island! She is committed to the continuing growth of her skills and the continued growth of the services on offer at her clinic. Providing the Bermudian public with the best service possible is her goal, and she looks forward to seeing you and your small companion animals at Endsmeet.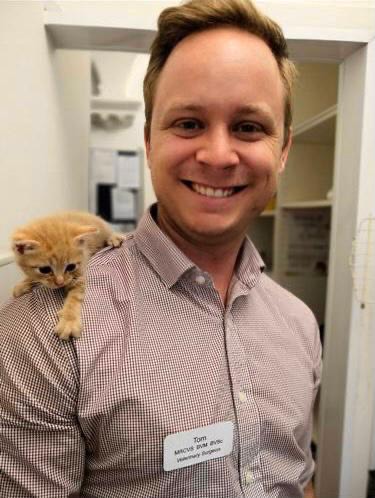 Dr. Tom Foster BVM BVS CertAVP M.R.C.V.S
I first saw work experience at Endsmeet Animal Hospital at the age of 11 with Doctor Burnie and Doctor Glynn, and soon decided that I wanted to be a vet. I returned several times to Endsmeet over the years to see more practice, more recently for University work placements with Doctor Jen. In my summers between studies I enjoyed volunteering at the SPCA and Bermuda Aquarium, and working as a Divemaster at Dive Bermuda.
In 2012 I graduated from the University of Nottingham, and spent the first two years of my veterinary career as a small animal practitioner in a busy clinic nearby. After a period of travelling and voluntary work at animal charities in Thailand and Indonesia, I began work as a locum vet in clinics across Australia and the UK. From 2016 I was based in a small animal practice in Manchester, England, becoming their Clinical Director in 2018. In 2020 I completed an RCVS Certificate in Advanced Veterinary Practice.
I am excited to be home in Bermuda after so many years, and it has been special to share this with my fiancée who has moved here with me from England. My primary interest is surgery, and I enjoy all aspects of working with cats and dogs. Outside of work I enjoy rugby, running and anything to do with the ocean. I look forward to meeting you all soon!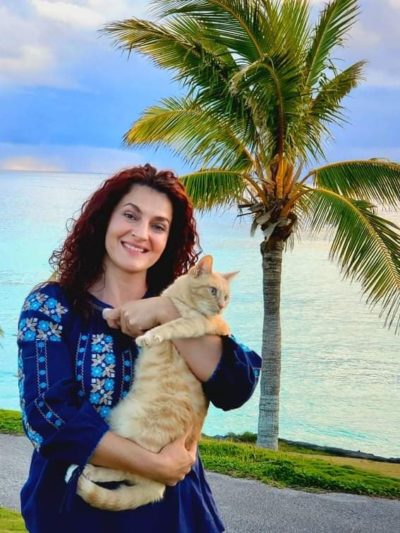 Dr. Mirela Gheorge, DVM
Dr. Mirela is a Doctor of Veterinary Medicine, member of The European College of Veterinary Medicine, The Bermuda Veterinary Association, and The Romanian Association of Veterinarians.
She attended The University of Agronomical Sciences and Veterinary Medicine Bucharest, Faculty of Veterinary Medicine from 1996 until 2002, followed by post graduate studies of Small Animal Critical Care, and she has been working on her PhD in Pharmacology.
Before coming to Bermuda, Dr. Mirela volunteered in one of the largest Animal Hospitals in South Florida for one year and after that she has worked in a Small Animal Practice in Romania for five years. She spent the past 6 years working in Bermuda as a veterinarian doctor and joined the Endsmeet Team in July 2019
Both of Dr. Mirela's parents were veterinarian doctors which is where she inherited her love for all animals. She grew up surrounded by cats, dogs, horses, sheep, cows, rabbits, chickens and bees on her family farm. There are no favorites as she has equal love for all animals.  Currently she has three cats and one dog and enjoys yoga, reading and taking long walks in her spare time.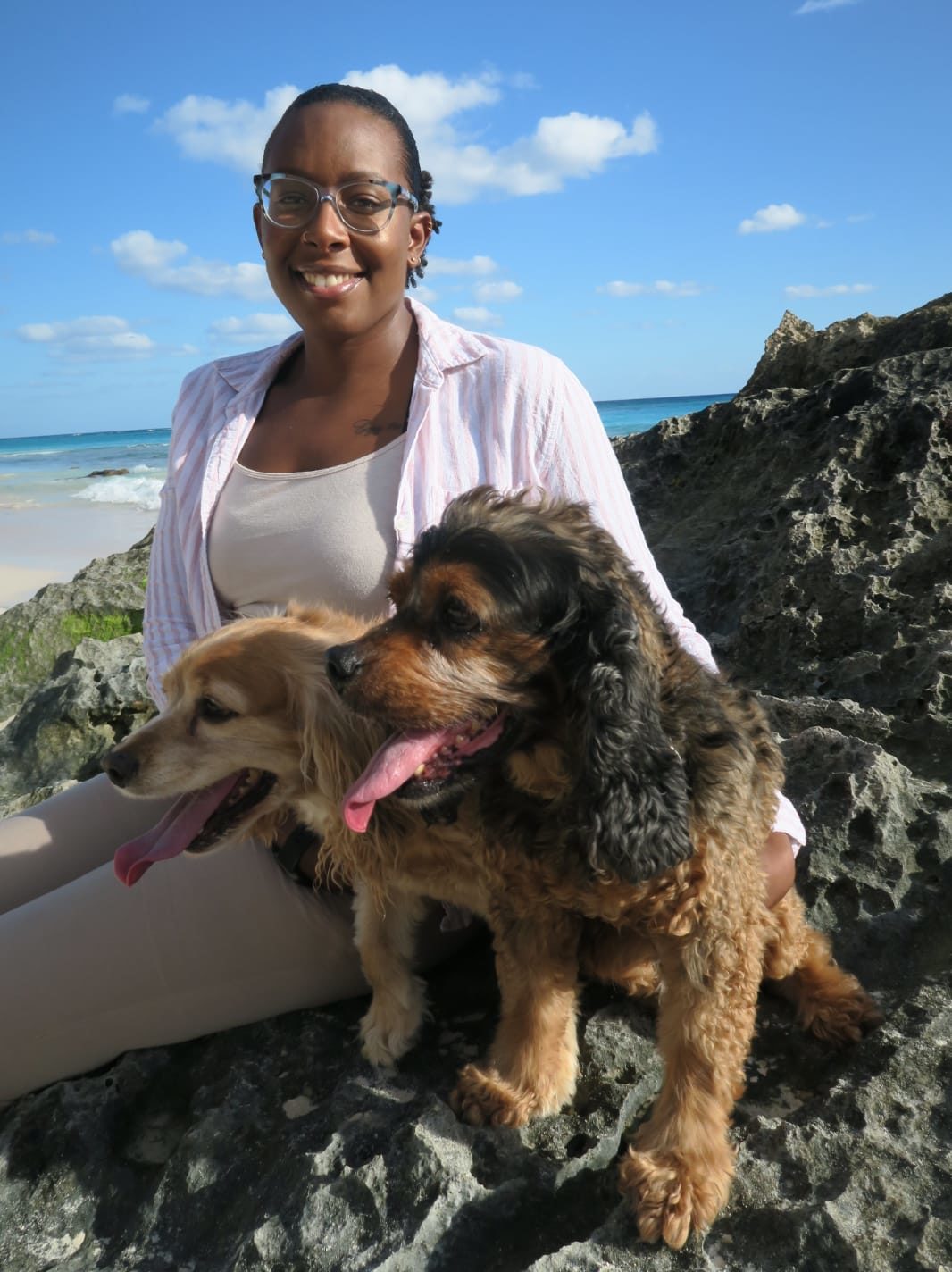 Dr. Kendra Simons, DVM
I have always wanted to be a vet since I was young. I was born and raised in Bermuda and grew up with rabbits, guinea pigs, and chinchillas. I spent some of my free time volunteering at SPCA and Windreach before I started shadowing regularly here at Endsmeet. One of my favorite volunteer experiences was in Nicaragua where I was able to provide veterinary care including spay/neuter cats and dogs that would otherwise not have access to veterinary care. I have also volunteered in South Africa where I was able to start a garden for an orphanage and build new enclosures for an animal reserve. One of my favorite part-time jobs during school was working as a junior aquarist at the aquarium. I graduated from Warwick Academy and went on to study at the University of Guelph before going to St. George's University to attain my Doctor of Veterinary Medicine. I completed a rigorous clinical year at the University of Georgia before graduating magna cum laude in January 2018. After practicing in Nova Scotia, Canada for 16 months I moved back home and joined the Endsmeet team. I am super excited to finally be back home for good and look forward to building lasting relationships with you and your furry, scaly and feathered babies. My professional interest includes surgery and developing my skills in exotic animal medicine. Outside of work I enjoy spending time with friends and family and my two beautiful cocker spaniels. I also hope to put my scuba certification to good use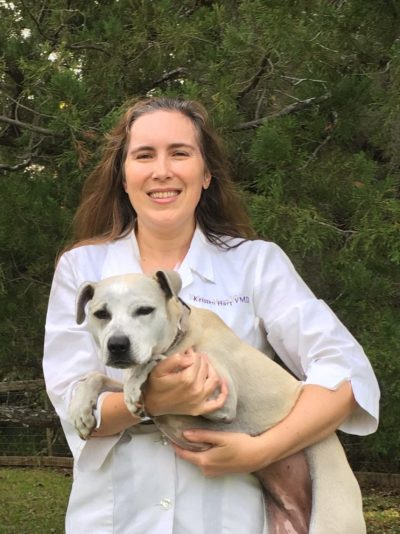 Dr. Kristen Hart, VMD
Kristen was born and raised in the suburbs of Philadelphia, Pennsylvania.  Growing up she always loved animals and can't remember any career ambitions other than becoming a veterinarian.  After graduating from Gettysburg College she returned to Philadelphia to attend the University of Pennsylvania from which she received her VMD in 2004.   She worked as a small animal private practitioner in Philadelphia before moving to Bermuda in 2011.  Especially fond of working with dogs and cats, her favorite aspect of practice is the opportunity to develop relationships with pets and their owners.  She has special interest in preventative and internal medicine.
Her favorite way to spend time in Bermuda is outside with family, friends, and pets.  She is kept very busy by her husband, two daughters, black labrador Bodie, and terrier-mix Paget from the Bermuda SPCA. Kristen first joined the Endsmeet Team in 2014 to cover Dr. Jen's maternity leave. We are very excited to have her back on board!